As a Mum muddling her way through this parenting lark, more and more I find myself asking the children to be kinder. Mainly kinder to each other to be honest, but also to their friends and neighbours.
We live in a fairly rural community in Cork. Every day on the school run we pass a tiny cottage by the side of a busy road.
I couldn't work out if anyone lived there until in the Summer I saw washing hanging on the line outside. Then one Saturday I saw an old lady waiting for the bus outside her gate – the one bus per WEEK that goes to Cork city.
And then every now and then, on the school run, I would see a taxi waiting. I kept thinking about this lady and wondering if I could help her in any way.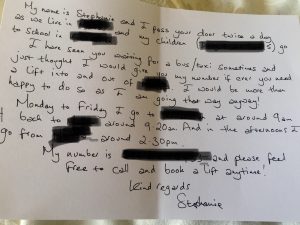 So one morning I decided to write this note giving my name, phone number and some details about how often I was back and forth on this road. I said I would be more than happy to give this lady a lift anywhere she wanted to go.
Then the following week my phone rang – and it was the lady from the cottage.
We arranged that I would collect her the next day on my way back from the school run.
And I have been doing just that for the last two months on the days that this lady needs a lift.
She has lived in that cottage her entire life and used to cycle everywhere until the road became dangerously busy.
Do you know where she goes twice a week in a taxi? To volunteer in the local cancer charity shop. Well that just made me stop in my tracks.!
I am so pleased that I wrote that note and every time she gets in my car I am very pleased to see her and enjoy our little chats!
It doesn't take too much to put yourself out there, to do something kind for a stranger or a neighbour. Buy a cup of tea for someone, donate something to raise funds, but most importantly talk to them! Sometimes I feel our community is disappearing into a virtual online world and while some of it is brilliant ….like sharing this with you… let's also think about the people around us. #letsbekinder
I don't want you to think I'm telling you what a wonderful person I am. I'm hopeful it may make you think that you can do something big or small. If you want to share it with the #letsbekinder and if you tag me I'll be happy to share it so we can start spreading some kindness and positivity for the next few weeks